Orange
Client focus on our relationship with Orange
Category
Ongoing IR Support
Orange
Client focus on our relationship with Orange
Ongoing IR Support
Orange is a leading multinational telecommunications company based in France. It has over 250 million customers worldwide. The company is currently led by CEO Stéphane Richard and is part of the Euro Stoxx 50 index.
Our relationship with Orange extends back to 2003, when it was branded as France Telecom. Since then we have worked with them extensively in several different capacities including deal roadshows, M&A announcements, non-deal roadshows, results presentations, investor days and ad hoc IR support.
Today we maintain a strong relationship with Orange providing continual support with their non-deal roadshow requirements, Investor Days and other IR related events.
In 2020, we launched our new Virtual Roadshow platform which allows the Orange management and IR team to access their IR schedule, key roadshow specific documents and to join meetings regardless of where they were working from. We look forward to developing this further with Orange and other clients in the coming months.
Orange has continued to use this Virtual Roadshow platform throughout H1 of 2021 and will continue to do so for virtual IR activity going forwards.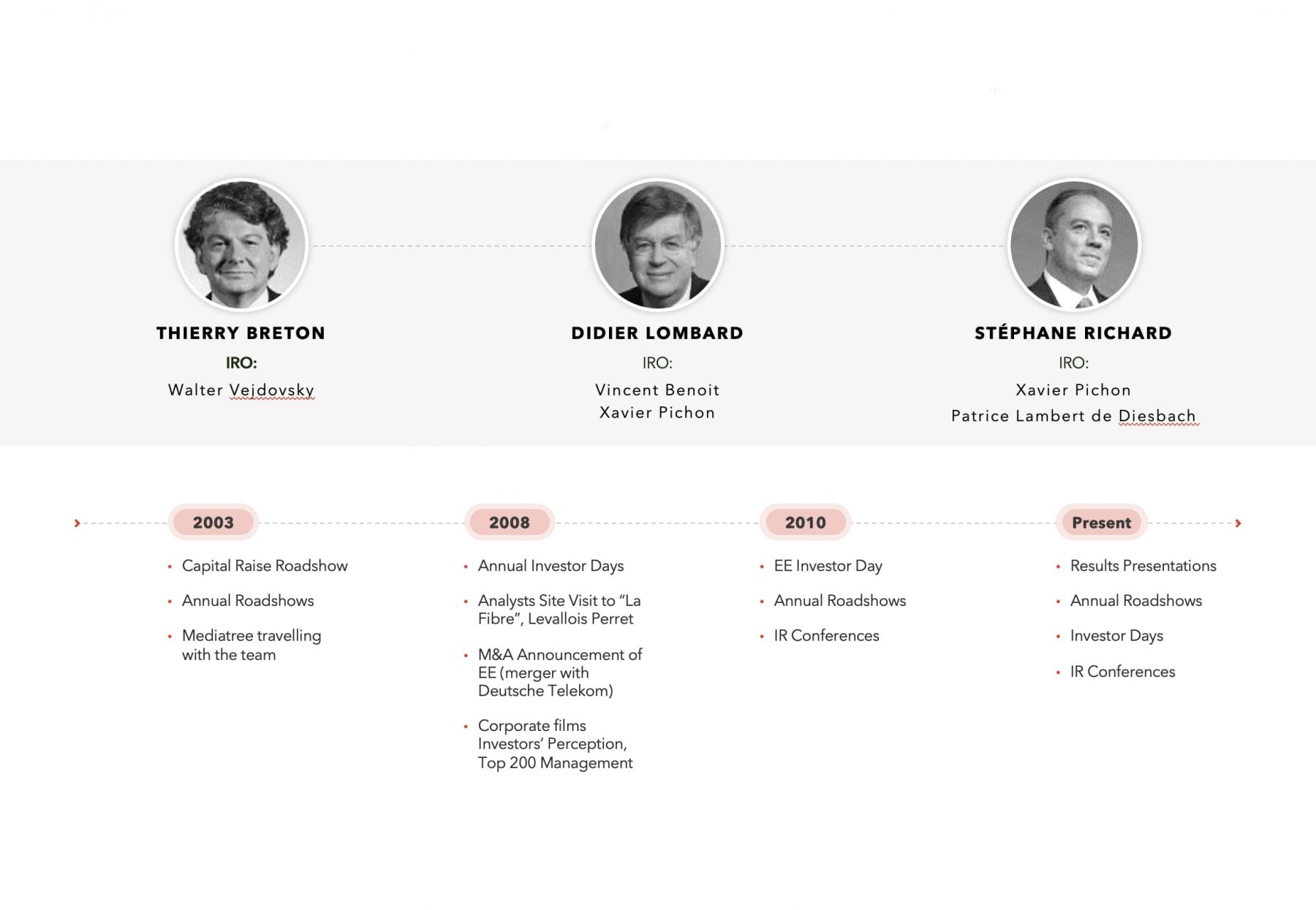 Virtual Event
Verallia
Mediatree supported Verallia with the first fully digital Leaders Meeting in the company's history
Investor Day
Lenta
Lenta Capital Markets Day 2021
Ongoing IR Support
GVS
Client focus on our longstanding relationship with GVS
Virtual IPO Roadshow
Allfunds
IPO Roadshow, Interim IRO support, IPO Microsite and IR Website, Analyst Presentation, Listing Ceremony
Ongoing IR Support
Enel
Client focus on our relationship with Enel
Ongoing IR Support
Etalon
Client focus on our longstanding relationship with Etalon
Virtual Event
Astorg
Astorg Virtual AGM and LPAC 2020
Presentation Support
N Brown Group
Presentation Support
Delachaux
Presentation Support for JP Morgan Presentation
Virtual IPO Roadshow
GVS
GVS listed on the Borsa Italiana raising €570,5 million. It was the first Italian IPO to be executed entirely virtually.