Orange
Focalizzazione sul cliente nella nostra relazione con Orange che dura da molti decenni
Category
Ongoing IR Support
Orange
Focalizzazione sul cliente nella nostra relazione con Orange che dura da molti decenni
Ongoing IR Support
Orange è una società multinazionale leader operante nel settore delle telecomunicazioni avente sede in Francia. Vanta oltre 250 milioni di clienti in tutto il mondo. Stéphane Richard, CEO, è attualmente alla guida della società che fa parte dell'indice Euro Stoxx 50.
La nostra relazione con Orange risale al 2003. A quei tempi la società si chiamava France Telecom. A partire da detta data abbiamo collaborato in numerose occasioni fornendo svariati servizi, tra cui organizzazione di roadshow per varie operazioni finanziarie, annunci M&A, non-deal roadshow, presentazioni dei risultati finanziari, Investor Day e supporto IR ad hoc.
Mediatree continua a mantenere una solida relazione con Orange e fornisce supporto continuo per soddisfare le sue esigenze in termini di non-deal roadshow, Investor Day e altri eventi riguardanti l'attività IR.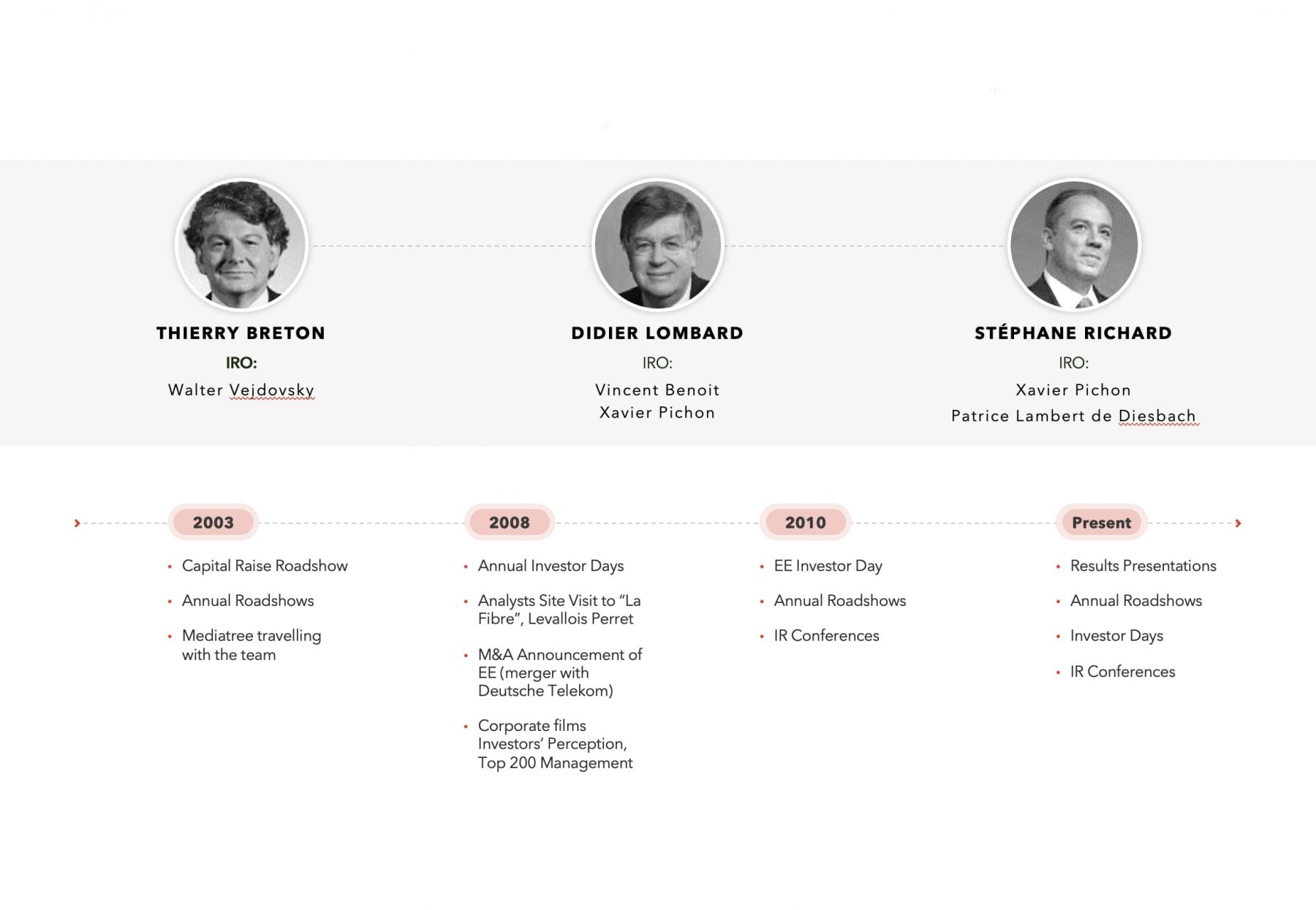 Virtual Event
Verallia
Mediatree supported Verallia with the first fully digital Leaders Meeting in the company's history
Investor Day
Lenta
Lenta Capital Markets Day 2021
Ongoing IR Support
GVS
Client focus on our longstanding relationship with GVS
Virtual IPO Roadshow
Allfunds
IPO Roadshow, Interim IRO support, IPO Microsite and IR Website, Analyst Presentation, Listing Ceremony
Ongoing IR Support
Enel
Focalizzazione sul cliente nella nostra pluriennale relazione con Enel
Ongoing IR Support
Etalon
Client focus on our longstanding relationship with Etalon
Virtual Event
Astorg
Astorg Virtual AGM and LPAC 2020
Presentations design
N Brown Group
Presentations design
Delachaux
Presentation Support for JP Morgan Presentation
Virtual IPO Roadshow
GVS
GVS listed on the Borsa Italiana raising €570,5 million. It was the first Italian IPO to be executed entirely virtually.