Enel Américas
Client focus on our longstanding relationship with Enel Américas
Category
Ongoing IR Support
Enel Américas
Client focus on our longstanding relationship with Enel Américas
Ongoing IR Support
Enel Américas, through its affiliates, generates, transmits and distributes electric power in four South American countries: Argentina, Brazil, Colombia, and Peru. It is one of the largest private companies in Latin America, adding a total installed capacity, to December 31st, 2018, of 11,257 MW supplied to more than 24.5 million customers.
On the July 31st, 2019, Mediatree worked alongside Enel Américas and the NYSE to organise the "Closing Bell", celebrating 25 years being listed in the New York Stock Exchange. Enel Chile also participated in the ceremony, formerly part of Enersis S.A., the company originally listed in the NYSE.
Mediatree works alongside Enel Américas:
– 2017 Mediatree opened Enel Américas and Enel Chile IR office in NY
– building sustainable roadshows
– board meetings for Enel Américas
– ongoing Non-Deal Roadshows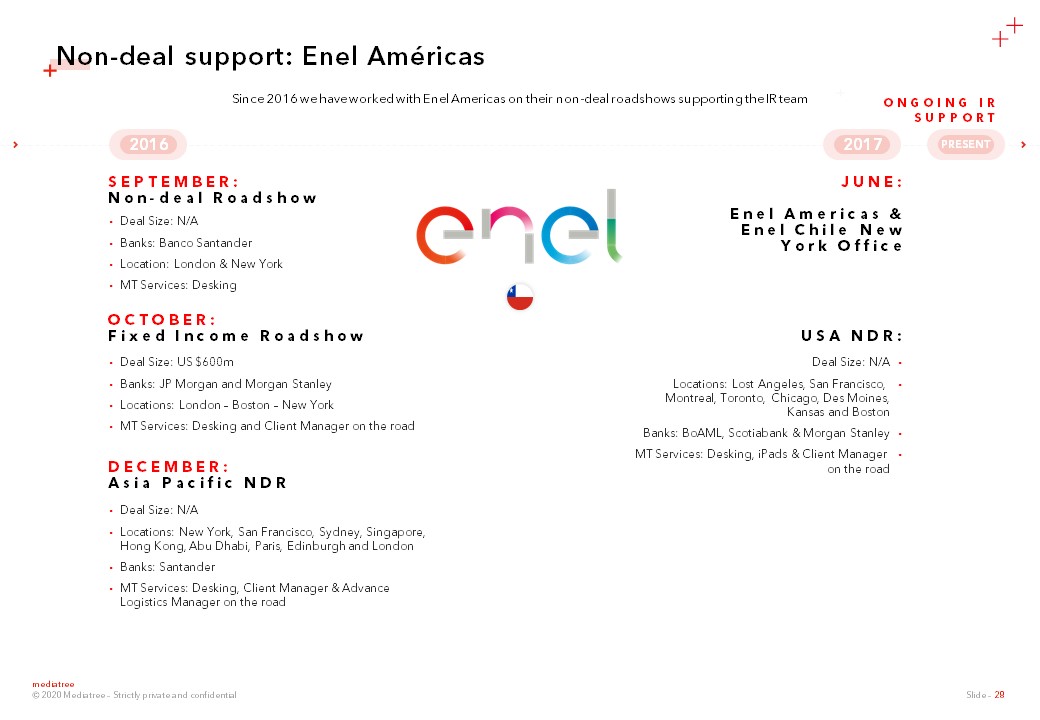 Virtual Event
Verallia
Mediatree supported Verallia with the first fully digital Leaders Meeting in the company's history
Ongoing IR Support
Enel
Client focus on our relationship with Enel
Ongoing IR Support
Orange
Client focus on our relationship with Orange
Ongoing IR Support
Etalon
Client focus on our longstanding relationship with Etalon
Virtual Event
Astorg
Astorg Virtual AGM and LPAC 2020
Presentation Support
N Brown Group
Presentation Support
Delachaux
Presentation Support for JP Morgan Presentation
Virtual IPO Roadshow
GVS
GVS listed on the Borsa Italiana raising €570,5 million. It was the first Italian IPO to be executed entirely virtually.
Virtual Event
Elis
Hybrid Results Presentation during the first wave of COVID-19
Ongoing IR Support
Gazprom
Client focus on our longstanding relationship with Gazprom including the 2020 Capital Markets Day which took place in February