Gazprom
Client focus on our longstanding relationship with Gazprom including the 2020 Capital Markets Day which took place in February
Category
Ongoing IR Support
Gazprom
Client focus on our longstanding relationship with Gazprom including the 2020 Capital Markets Day which took place in February
Ongoing IR Support
Gazprom is a global energy company focused on geological exploration, production, transportation, storage, processing and sales of gas, gas condensate and oil, sales of gas as a vehicle fuel, as well as generation and marketing of heat and electric power.
The $356mn IPO of OKG-2 in 2007 was the starting point of the relationship between Mediatree and Gazprom consisting of a one team, two week roadshow.
More recently, Mediatree has assisted Gazprom with the organisaiton its Non Deal Roadshows in 2019 as well as working closely with Gazprom to deliver its 2020 Investor Day in London and New York.
This is an ongoing working relationship and we continue to work closely with the Gazprom team on the logistical aspect of its Investor Relations activity.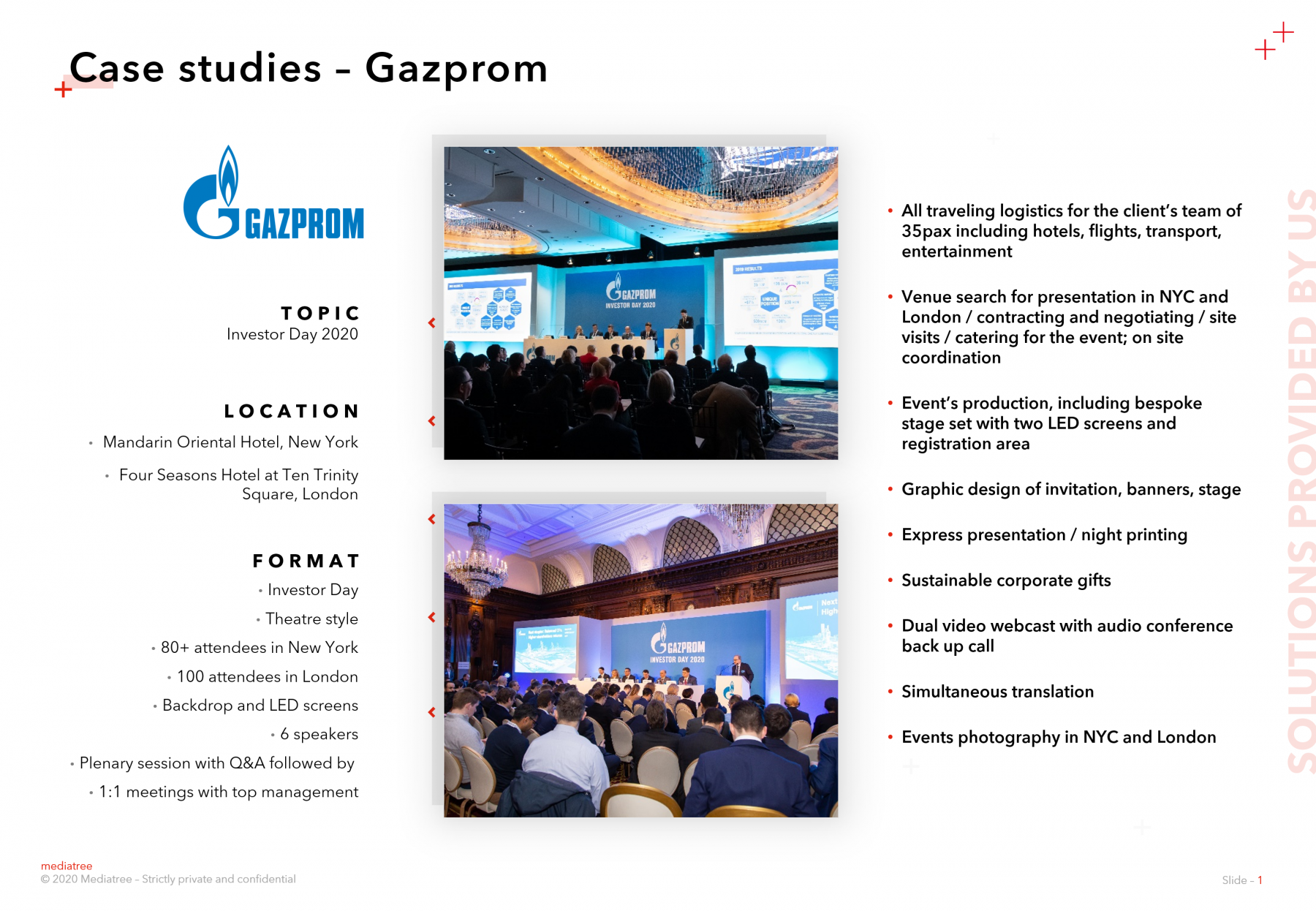 Virtual Event
Verallia
Mediatree supported Verallia with the first fully digital Leaders Meeting in the company's history
Jornada para Inversores
Gazprom
Gazprom Investor Day 2021
Jornada para Inversores
Lenta
Lenta Capital Markets Day 2021
Ongoing IR Support
GVS
Client focus on our longstanding relationship with GVS
Virtual IPO Roadshow
Allfunds
IPO Roadshow, Interim IRO support, IPO Microsite and IR Website, Analyst Presentation, Listing Ceremony
Ongoing IR Support
Enel
Relación de confianza con nuestro cliente Enel
Ongoing IR Support
Orange
Relación de confianza con nuestro cliente Orange basada en décadas de colaboración
Ongoing IR Support
Etalon
Client focus on our longstanding relationship with Etalon
Virtual Event
Astorg
Astorg Virtual AGM and LPAC 2020
Presentaciones
N Brown Group